by admin on Jun.08, 2012, under Uncategorized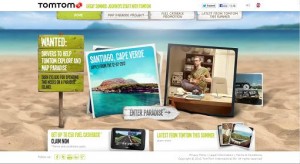 In collaboration with North Kingdom, Pool Amsterdam and TomTom, we embarked on an ambitious venture that took us around the world and elsewhere.
TomTom's Map Paradise is a campaign that allows users to compete for exotic island vacations in order to map each island for TomToms map databases.
We were given the direction to create an Islandy theme for the intro…well…being musicologists at heart, we suggested that we take each island – Fiji, Mauritius, Seychelles, St. Lucia and Cabo Verde and arrange a seperate piece for each of them based on the indigenous musical styles and instrumentation of each island.
We then produced 5 variations of the central theme in such styles as Coladeira, Sega, Seggae, Fijian Traditional, Zouk and Reggae.
Many of the instruments used in these recordings are the traditional native instruments of the regions such as Ukelele, Djembes, Caxixi, Udu, Triangles, Fijian blocks and African Rattles (yes, we're percussion fanatics).
Check it out here, after the intro and contest, take a musical tour of each island…Feelin' IRE !!